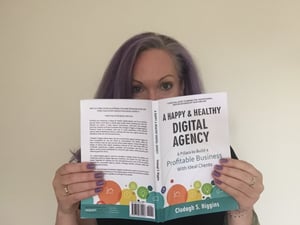 I'm delighted to announce today the launch of my book to help Digital Marketing Agency Owners grow and scale their businesses.
I've been in the Inbound Agency Industry for over 12 years, consulted to over 400+ agencies when working in HubSpot & coming up to 16 months with the Growit Group. I wanted to share some of the best practices that successful Digital Agencies implement into one book . . . and here it is . . .
A Happy & Healthy Digital Agency
Some of the topics discussed in the book are . . .
The importance of investing in your agency team.
How to retain good fit clients and high performing employees.
How to achieve double digit profits consistently in your business.
Measuring the right numbers so you can achieve your goals.
Why processes and procedures are key factors to your success.
Recruitment strategies to hire your dream team.
Plus many more strategies with stories of success from agencies that implemented the tools and recommendations we advised.
The book is available in Amazon on Kindle and Paper back you can click on link above or image below.