In this episode we chat with Howard Diamond - Chief Strategy Officer at Rise Interactive about how their agency grew a team from 8 to 250+ people.

This episode was sponsored by Traction Tools.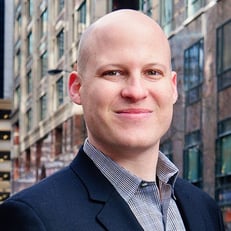 We chatted about:
Leaving a corporate to work at Rise Interactive agency
The importance of having a vision for your agency
Growing with Purpose
Having level 10 meetings
Using visualization for understanding and tracking
Effectiveness of EOS in running the business
Adapting your business with the current economic climate.
Having alignment in your agency
And much much more


Howard Diamond is the Chief Strategy Officer at Rise Interactive. Howard brings more than 20 years of experience helping brands achieve maximum results from their media and technology investments. Prior to Rise, Howard worked in sales, marketing, and development roles with companies including Q Interactive and CTI Meeting Tech.
Outside of Rise, Howard sits on the Board of Directors for the Center for Enriched Living, a non-profit organization focusing on the success of people with developmental disabilities. He currently lives in the Chicago area with his wife and two children.
He earned a bachelor's degree in advertising from the University of Illinois at Urbana-Champaign.
Regarding the agency, Rise is a leading digital marketing agency with 250+ employees, headquartered in Chicago with global offices in Buenos Aires and Mexico City. They have been recognized as one of the most innovative and strategic firms that is able to leverage data to help brands make better decisions on how to allocate the marketing investment dollars. In addition to this unique approach to digital marketing which can be likened to managing a financial portfolio, Rise has proprietary technology that allows marketers and their Rise agency team to see in real time how every channel is performing while also automating campaign optimizations. Finally, Rise has an award winning user experience team for building highly engaging websites and creative content designed to convert customers. Some of Rise's 80+ clients include Mass Mutual, Ulta Beauty, The American Lung Association and more.
Traction Tools is a web-based project management software that allows you to align all parts of your business. ... You can use this software on the go by texting into the software which will quickly add items to your meeting agenda. This software is designed for entrepreneurs.
Traction Tools: https://www.mytractiontools.com/
EOS: https://www.eosworldwide.com/
Rise Interactive: https://www.riseinteractive.com/