I felt like I was at a conference not just for work but for all the areas of my life. The agenda had wide range of topics presented by down to earth people, who have achieved real results that are repeatable and they shared their secret sauces with all of us. I am hooked.
KEY TAKEAWAYS
DigitalMarketer.com/journey

the best buyers journey to add value to the customer

Mini-Podcasts are easy to digest and popular with audiences

You cannot create a community without daily management and interaction

Conversational marketing is a must for your website . . . Drift even trialing a home page that is just chat

Answer ALL the questions that your prospects asks - even the ones you think are stupid . . . check out

Quora.

Take risks, do the opposite of your competitors, post different types of content and if you think it is the right thing to do . . . do it.

More face to camera videos on Instagram - connect with your audience.

Storyblocks.com

to help you create amazing videos.
Those are just mine, there is an excellent blog post from the

DigitalMarketer

team . . .
From the first minute right up the wrap up at the end where Richard Lindner helped us process all the information we had gathered over the the previous three days and prepare for re-entry back to our real lives there was value all the way.
There was no selling from the stage, partners shared tactical advice on how you could implement strategies in your own agency (not just straight copy them), the rooms were a great size and lots of space, even with 5500 people it never felt crowded and I got into every room, minimal queuing. The hotel had a great selection of food and drink options. The DM staff and event team were a pleasure to work with and see every day. I got a real sense of family, fun and professionalism from the Digital

Marketers.com staff and already feel a part of them.
Marcus Murphy who nominated me to his speaker team after I was introduced to him via Bob Ruffalo - Impact was one of the nicest and most humble men I have ever met. Not only did he thank me for coming to speak at the conference, he came over from his own talk to introduce me to the stage for mine with a heartfelt welcome - it really made me settle my pre-talk nerves.
Becky & Jenna were super at looking after me regarding speaker information and I even got a beautiful gift of a Bose speaker by way of thank you.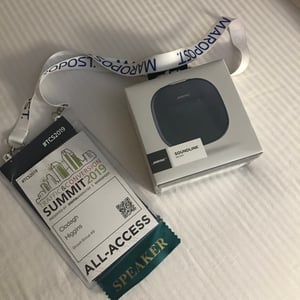 The Partner community is around 500 strong, they are super supportive and inclusive. This was the first time I was going to a conference on my own (I did have friend and client Josh from Spark Reaction who was super craic, to hang with) I didn't have a team around me like normal, which I was a little apprehensive about in the beginning. In true Clodagh fashion, thanks to the heels, leggings and purple hair, I was recognised by an ex-HubSpotter, Andrea, on the first night and in the following days I also caught up with Elizabeth and Bob Ruffolo too 🙂 which also helped me fall even more in love with T&C 😉
Here's my quick fire round . . . from my video summary.
The app . . . pure class. . . intuitive & didn't crash once on me.
The map . . . clear and easy to understand.
The signage - lots . . . didn't get lost or end up in the wrong room once.
The parties . . . all well organised and fun.
The breaks . . . enough time to get from one talk to another without feeling rushed.
The restrooms . . . plenty for women, I didn't queue once :)
The VIP Room - fabulous, I was spoiled, there will be no talking to me after this.
The city . . . San Diego is beautiful, easy to walk around and not wild expensive to stay in, great selection of restaurants. I felt safe walking around. There were lots of scooters and bikes too.
The temperature . . . lovely 14 degrees no rain - SD'ers apologising for the "cool" weather - I was delighted.
Huge thank you to Andrea & Elizabeth who were at my talk, it was lovely to see familiar smiling faces in the audience.
Watch an overview of my talk
Full of professional people who were passionate about their business and very welcoming.
Great news is that I don't have to wait until next year to see everyone again, there is a Digital Agency Expo in Sept and the T&C Summit is expanding to locations around the world.
***In other news we are SO proud to announce the official launch of our
Growit Circle Coaching Program.

***
The Growit Circle Includes:
Each month you will be invited to our Growit Circle Live Training call that I will personally host. Weekly Accountability Checkin on your personal & professional goals.
At the end of each

call

you can get coaching from me in our live Q & A session.
Access to

previous

recorded calls and webinar training sessions.
http://digitalmarketer.com/journey

Join our online community of successful Digital Agency Owners who take action in our private Facebook Group.

50% off Growit Academy Online Training Courses.