If you are passionate about your Agency Culture, then you know that team building and bringing your staff together for activities outside of the office are very important. By using Office Vibe, you will know how your team is feeling and this can dictate the activity you choose.
Are they stressed and overwhelmed - book a spa day - yes, guys can do this too, or if they are feeling that they are working together, a group exercise like doing a project together might be an idea.
The easy option is always beers & pizza at the office at months end. It is important if you are hitting your numbers to celebrate and this is a quick way to do it. However, once a quarter you should invest time and budget into your people to show them you care and foster a better working relationship between them. Here are a few tips:
5 team building activities - not involving alcohol

Art classes
It doesn't matter if you can barely draw a stick insect the act of putting pen to paper is very therapeutic and encourages people not to take themselves too seriously. Flawless Inbound in Canada did this recently, and the team really enjoyed the activity. Here you can see the results for yourself . . . beautiful.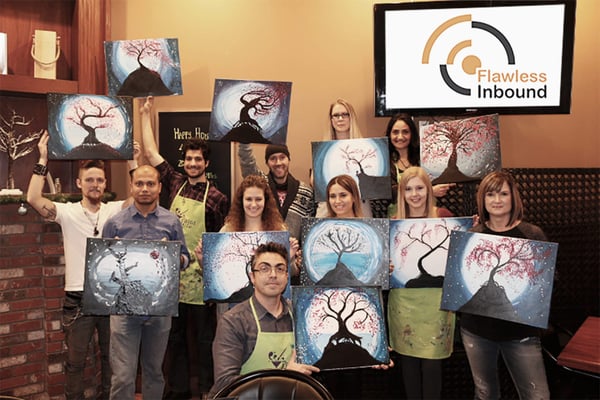 Have a look at our digital agency checklist and make sure you've got everything covered:
Walking Tour of your City
You can live in a place for years and know less about it than the tourists that visit. By taking a walking tour or an open bus tour of the city you live in, everyone can learn something new and have a shared experience that bonds the team. You can follow it up by having a bite to eat at a cafe.
Making Mandalas
I learned about these through a friend of mine Patricia who runs Healing Creations - the exercise involves everyone creating a mandala either with small objects (stones, plastic forks etc.) and starting from outside and working inwards you have to communicate with each other and work together. You could arrange for sandwiches to come during a break and relax.


Read more: How having a great team can help you have a great agency [Part1]
Outdoor Treasure Hunt
We did this in the past when I worked in HubSpot, and it is fantastic fun, either in a city or nature organise everyone into teams to find clues, we added in posting our results on Instagram, and it was such a hoot. Again you can arrange food on the go or at the end when the winners are announced.
Spa & Massages
This can be a fun one if people are body conscience so you can arrange for individual spa treatments followed by juice and healthy lunch giving your team the option of swimming or jacuzzi if they are comfortable. A bonus option here would be inviting partners of your staff to thank them.
You will notice that these are some ideas that don't involve alcohol, which we all know is an easy social lubricant to create the illusion of people getting on but rather this list is for building a strong team that works together better today and in the future.
If you would like more information about these activities or would like to talk about any of the challenges you are facing in your agency, please drop me a line - clodagh@growitgroup.com